Dr. Edie Benner, PhD, PT, OCS
Professionally, Dr. Benner takes a special interest in treating patients with orthopaedic and sports injuries. If you have pain that is preventing you from playing your sport, getting out and walking/running/biking or hiking, or simply having difficulty with daily functional activities around your home or workplace, then give us a call. In most cases, you do not need a physician referral. Often it takes 8 or fewer visits to achieve your goals. Choose PT! A much better option than pain meds, surgery or bed rest!
Edie's undergraduate degree was from The University of Miami. Go Canes! Then she completed her Master's degree in Exercise Physiology and her Doctorate in Health Education and Promotion from Kent State University, home of The Golden Flashes! She is a board certified Orthopaedic Clinical Specialist.
Edie and her business partner were honored to have received the American Physical Therapy Associations PT/PTA Team Award. She was also honored to have been chosen as the Ohio Physical Therapist of The Year! Most recently, Cleveland State University honored Edie with The CSU Viking Award. She currently serves on The Board of Directors of The Mid American Rehab Network. In case you are interested, her full Curriculum Vitae is linked to our website.
If you can't find her at the clinic, check to see if she's running, biking or XC skiing on The Headwaters Trail adjacent to the office, kayaking down The Cuyahoga River, skiing (snow and water) or Revitalizing Downtown Mantua! Plus, a special thanks to her husband and son for all of their support throughout the 20 years Advanced Rehabilitation & Health Specialists has been in business.
Current favorite quote: "Strive for progress, not perfection." (unknown)
Juli Robine, MPH, PTA, Lifestyle Coach
In addition to returning her physical therapy clients to full activity through individualized, goal oriented, one on one treatment, Juli's interests also include coaching clients to achieve a balance of health and wellness, and reduce their risk of chronic disease. Juli works with a variety of clients, including prediabetics, diabetics, and others with chronic conditions. She thoroughly enjoys helping individuals promote a lifelong lifestyle change through her Diabetes Prevention Programming, along with Lifestyle Coaching. Juli started Advanced Wellness, which specializes in Corporate, Group, and Individual Wellness programming and chronic disease management. She received her Physical Therapist Assistant degree from Cuyahoga Community College, her Bachelor of Art degree in Health Communications, and her Master of Public Health (MPH) degree, with a focus on Social and Behavioral Sciences, both from Kent State University. She is certified as a Wellcoach Lifestyle Coach and a Certified Health Education Specialist (CHES). Juli's research has focused on planning, implementing, and evaluating lifestyle interventions to promote optimal health and wellness. Other research has included evaluating Cleveland Clinic's Lifestyle 180 Program to prevent or minimize chronic disease; chronic disease, the built environment and the worksite; along with the role of public health to reduce chronic disease in the workplace. She co-authored the book chapter "Dietary Protein and the Risk of Stroke" within the book Foods and Dietary Supplements in the Prevention and Treatment of Disease in Older Adults (Watson, 2015). Juli loves any outdoor activities: running, biking, swimming, triathlons, kayaking, snowshoeing, cross-country skiing, and hunting. Her interest that would surprise most is playing her fiddle! Juli has a huge desire to help others improve their overall health, and is anxious to help you get started in achieving your goals, whatever they may be!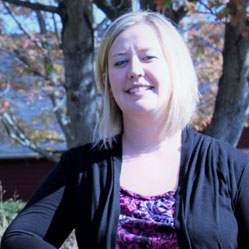 Jessica Joo, RHIT, Office Manager
Jessica Joo, RHIT, the newest member, joined our team in July 2017. As the office manager Jessica helps with the day to day aspects of Advanced Rehabilitation. Jessica has an extensive amount of experience in medical coding and billing (Credentialed as a Registered Health Information Tech). With that experience, Jessica also assists with any billing and any insurance questions that you might have.
Caitlin Goggin, PT, DPT is a Physical Therapist and Advanced Rehabilitation's Account Specialist. Caitlin started in 2013 after choosing to pursue a career in physical therapy. Caitlin earned her Bachelors of Science in Exercise Science from the University of Mount Union in 2014 and her Doctorate of Physical Therapy from Cleveland State University in 2017. Currently, Caitlin shares her time at Advanced Rehab completing patient care and managing the office schedule, completing billing for PTs and PTAs, reconciling insurance claims, and resolving overdue patient accounts. Additionally, Caitlin plans events, including 5k races, to promote community health and wellness.
Valerie Shelton, LMT, Massage Therapist
Valerie Shelton is a resident of Mantua and graduated from Crestwood High School. After Graduation in 2018, she attended Cuyahoga Community College and graduated with Honors from the Massage Therapy program in June, 2019. Valerie completed her State Board, August, 2019, and is a Licensed Massage Therapist. She is currently continuing her education full time to receive her Advanced Certificate in Massage Therapy and her Associates of Applied Science focused on Massage Therapy.